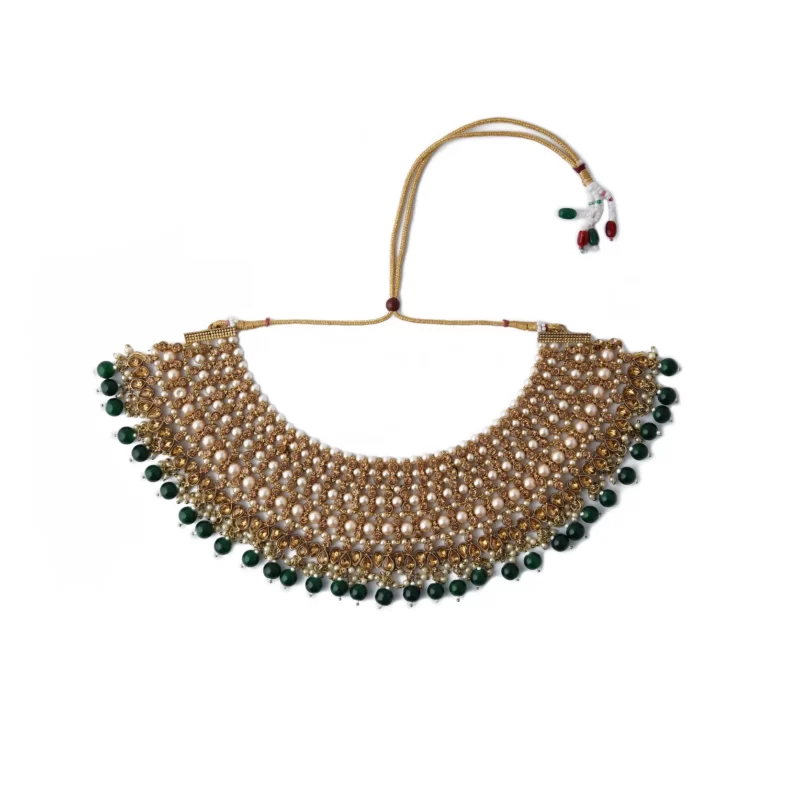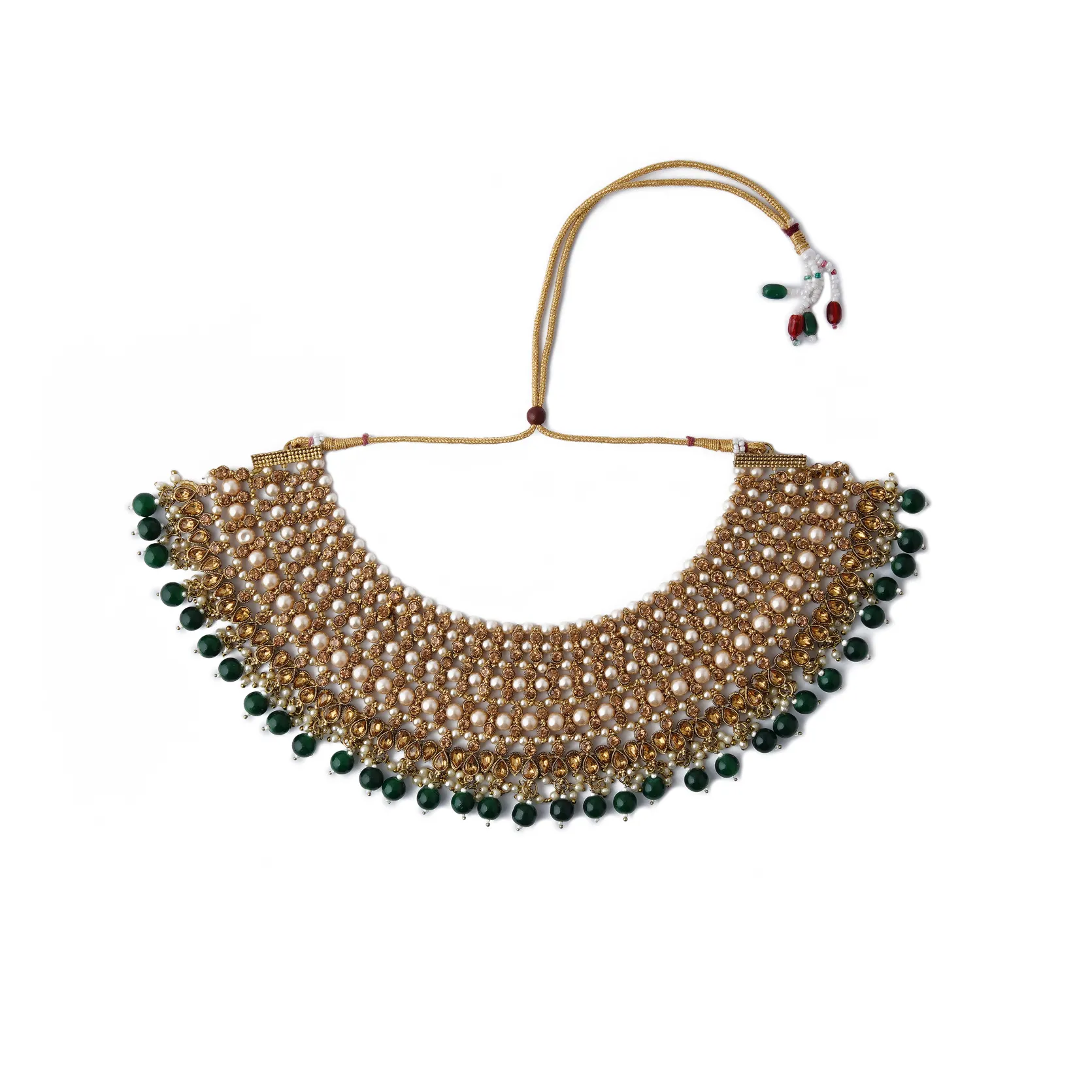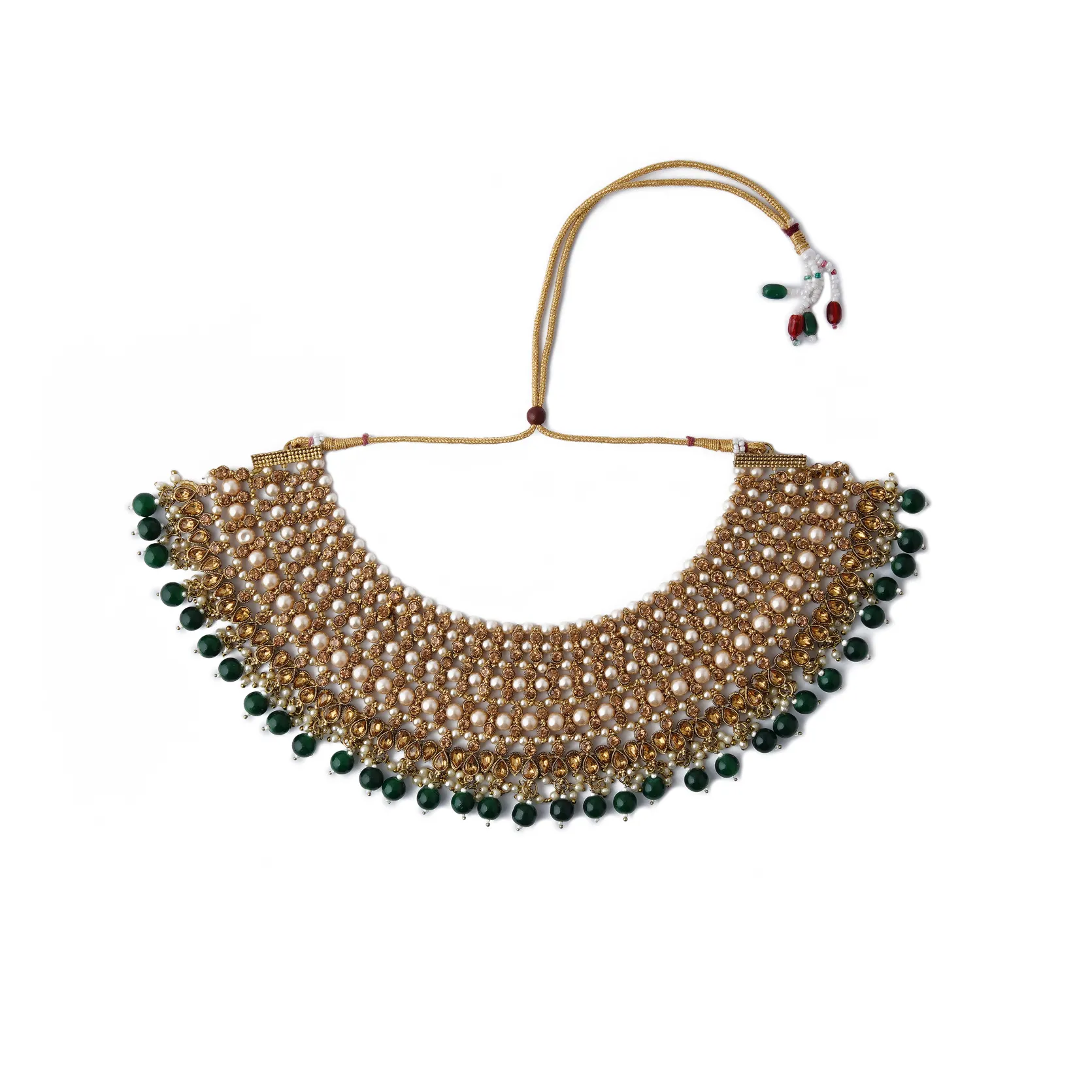 Indian Style Maang Tika Kundan Green Beads Necklace Set
$49.99
Adorn yourself with the timeless elegance of this Indian-style Maang Tika Kundan Green Beads Necklace Set.
Delivery Return

We ship to all 50 states, Washington DC.
All orders are shipped with a UPS tracking number.
Always free shipping for orders over US $200.
During sale periods and promotions the delivery time may be longer than normal.

Fana will accept exchanges and returns of unworn and unwashed garments within 30 days of the date of purchase (14 days during the sales period), on presentation of the original till receipt at any store where the corresponding collection is available within the country of purchase.

Your return will usually be processed within a week to a week and a half. We'll send you a Return Notification email to notify you once the return has been completed.
Please allow 1-3 business days for refunds to be received to the original form of payment once the return has been processed.

Give us a shout if you have any other questions and/or concerns.
Email: contact@mydomain.com
Phone: +1 (23) 456 789

Size Guide

Size Guide

| | | | |
| --- | --- | --- | --- |
| SIZE | CHEST | WAIST | HIPS |
| XS | 34 | 28 | 34 |
| S | 36 | 30 | 36 |
| M | 38 | 32 | 38 |
| L | 40 | 34 | 40 |
| XL | 42 | 36 | 42 |
| 2XL | 44 | 38 | 44 |

Ask a Question

Ask a Question

Indian Style Maang Tika Kundan Green Beads Necklace Set

$

49.99
Introducing our exquisite Indian Style Maang Tika Kundan Green Beads Necklace Set, a true embodiment of timeless elegance and traditional charm. This intricately crafted jewelry set captures the essence of Indian heritage and showcases the artistry of skilled craftsmen.
At the heart of this set is the stunning Maang Tika, designed to adorn the center of the forehead with grace and poise. The Maang Tika features meticulously set Kundan stones, known for their radiant luster and captivating sparkle. The intricate arrangement of these stones creates an aura of regality, reflecting the rich cultural tapestry of India.
The necklace, a true masterpiece, continues the theme of opulence. Cascading strands of vibrant green beads intermingle with Kundan-studded embellishments, resulting in a harmonious blend of color and texture. Each bead is thoughtfully chosen to complement the traditional motifs, invoking a sense of grandeur fit for special occasions.
The craftsmanship extends to the accompanying earrings, which mirror the intricate details of the Maang Tika and necklace. Their delicate design allows them to dangle gracefully, catching the light as they sway, adding a touch of movement to the ensemble.
Whether worn with a classic saree or a contemporary ensemble, the Maang Tika Kundan Green Beads Necklace Set effortlessly adds a touch of glamour, making you the center of attention with its radiant beauty.
You have no recently viewed item.