-50%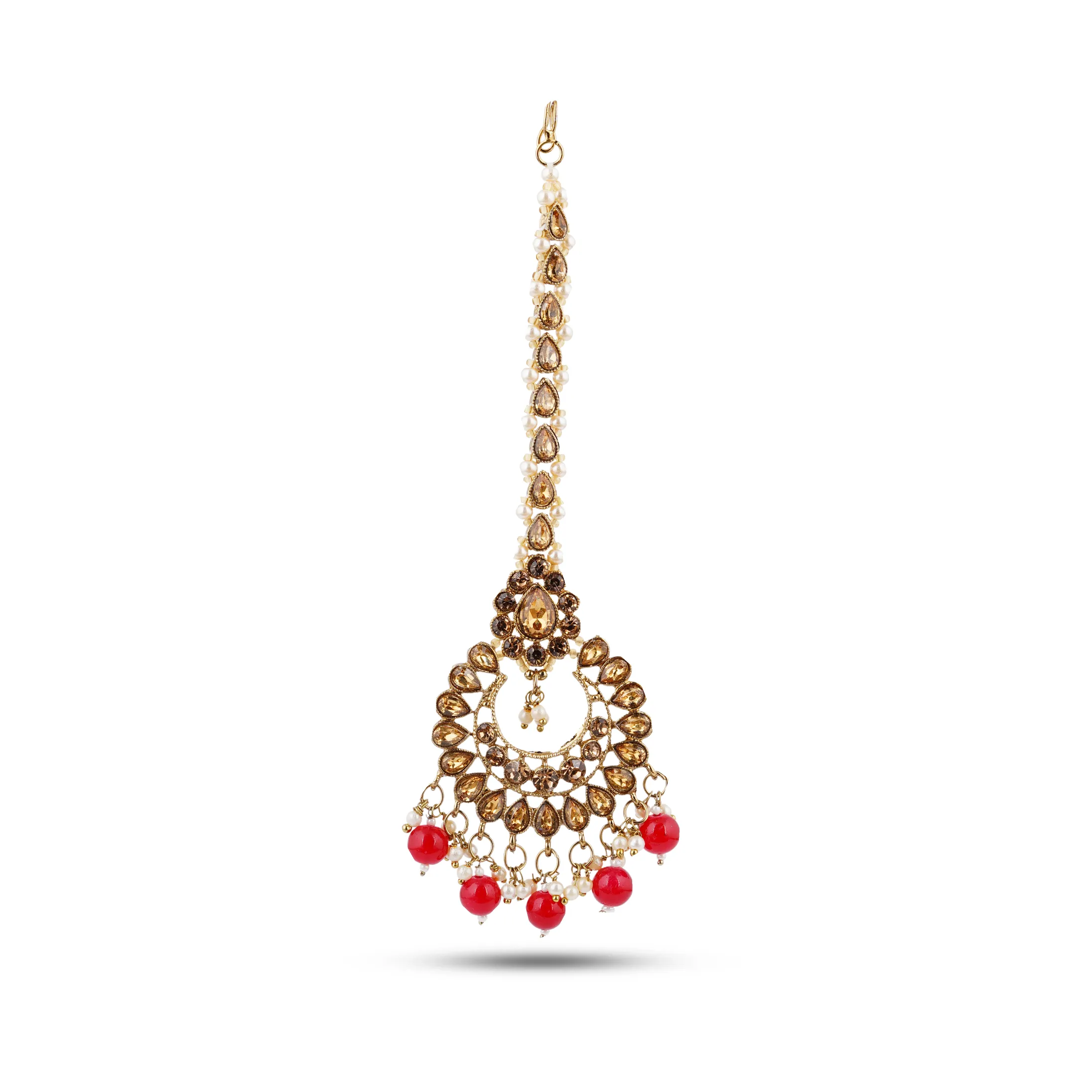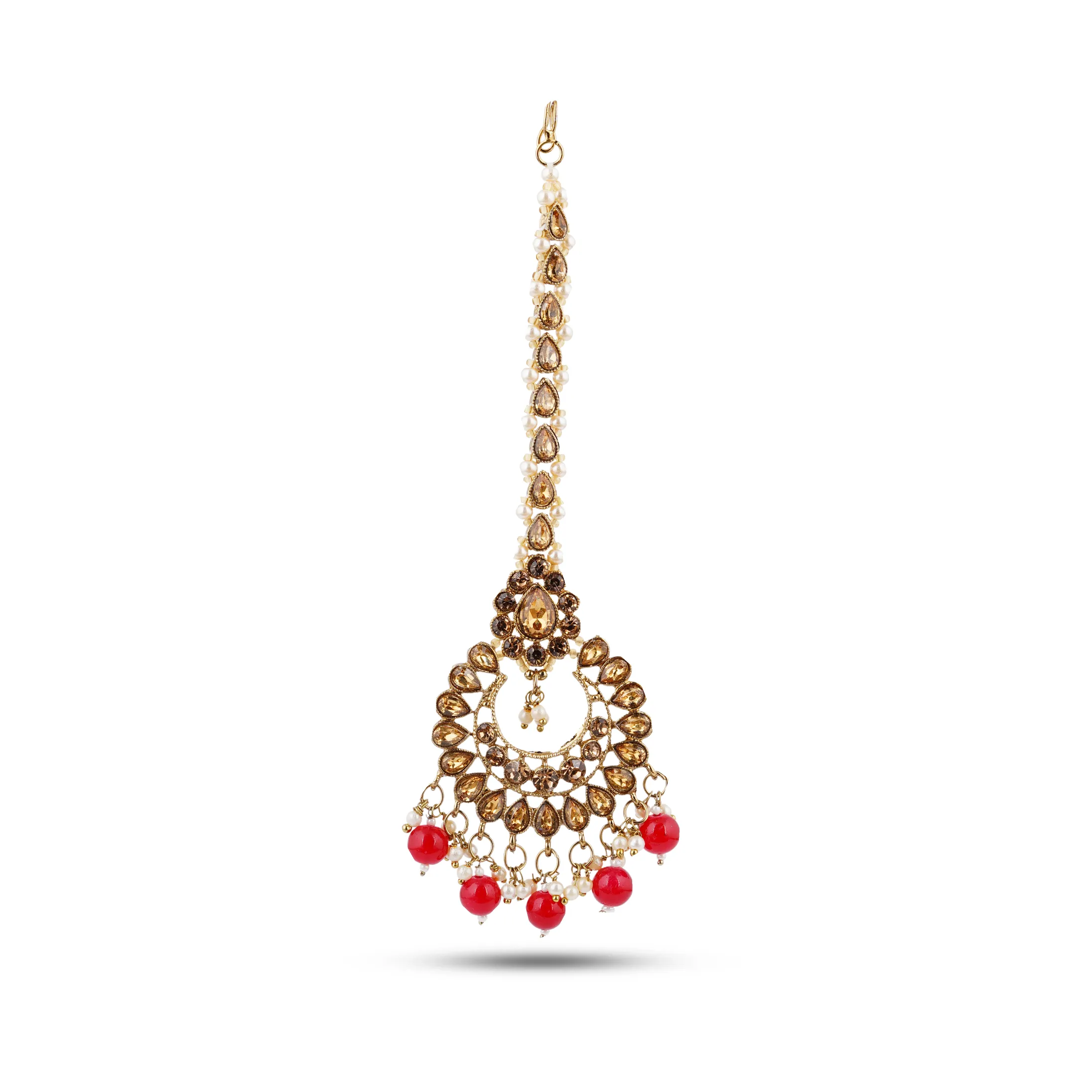 Indian Style Maang Tika Kundan Red Beads Necklace Set
Adorn yourself with the timeless elegance of this Indian-style Maang Tika Kundan Red Beads Necklace Set.
Delivery Return

We ship to all 50 states, Washington DC.
All orders are shipped with a UPS tracking number.
Always free shipping for orders over US $200.
During sale periods and promotions the delivery time may be longer than normal.

Fana will accept exchanges and returns of unworn and unwashed garments within 30 days of the date of purchase (14 days during the sales period), on presentation of the original till receipt at any store where the corresponding collection is available within the country of purchase.

Your return will usually be processed within a week to a week and a half. We'll send you a Return Notification email to notify you once the return has been completed.
Please allow 1-3 business days for refunds to be received to the original form of payment once the return has been processed.

Give us a shout if you have any other questions and/or concerns.
Email: contact@mydomain.com
Phone: +1 (23) 456 789

Size Guide

Size Guide

| | | | |
| --- | --- | --- | --- |
| SIZE | CHEST | WAIST | HIPS |
| XS | 34 | 28 | 34 |
| S | 36 | 30 | 36 |
| M | 38 | 32 | 38 |
| L | 40 | 34 | 40 |
| XL | 42 | 36 | 42 |
| 2XL | 44 | 38 | 44 |

Ask a Question

Ask a Question

Indian Style Maang Tika Kundan Red Beads Necklace Set
Indulge in the opulent charm of traditional Indian aesthetics with our exquisite Maang Tika Kundan Red Beads Necklace Set. This resplendent ensemble captures the essence of timeless elegance, designed to elevate your ensemble for special occasions and cultural celebrations.
Crafted to perfection, this exquisite set combines traditional artistry with modern flair.
The centerpiece of this set is the Maang Tika, a regal ornament that graces the forehead with its intricate Kundan craftsmanship. Sparkling white Kundan stones are meticulously set against a rich gold base, forming an ornate motif that symbolizes grace and beauty. Dangling delicate chains on either side add a touch of movement and allure, framing the face in a mesmerizing manner.
Complementing the Maang Tika, the necklace boasts a striking design featuring vibrant red beads interspersed with gleaming Kundan accents. The intricate arrangement of these beads reflects the finesse of traditional Indian jewelry, while the Kundan stones catch the light, exuding an enchanting radiance. The adjustable chain ensures a comfortable fit while maintaining the necklace's regal appearance.
Whether worn with a resplendent saree, an elegant lehenga, or even a fusion ensemble, the Maang Tika Kundan Red Beads Necklace Set will undoubtedly become the centerpiece of your ensemble, radiating a sense of cultural richness and personal style.
You have no recently viewed item.